We're here to help you gather all the Halloween hairstyles inspiration you'll need, everything in just one list! From famous movie characters, to historical & mythical figures, to laid-backs looks, scroll down and get ready for a night of spooks and fun!
The warm summer days of summer are past us, but that doesn't mean you'll stop having fun with your hair, far from it actually! Just one word: Halloween.
Summer is a great (and stressful) period for your hair as besides all the great ways you can style your hair for a festival, you also have so many hair color ideas, and also many updos to try – extra cute and practical to fight off the sweltering sun.
Now that the hot summer is over, you can take your hair down, let it breathe for a bit, and start planning for your fall events. Consider a new fall color, make plans for Homecoming, and of course, for the biggest look-change night of the year: Halloween.
I. Pop Culture Inspiration
1. Redhead Love – Ginny Weasley
Whether you like her movie version or not, you can't deny that Ginny Weasley was an awesome Harry Potter character.
Or that the actress playing her, Bonnie Wright, has amazing hair. This whole look is easy to replicate, too! Just slightly curl your hair and have your wand out and ready.
2. The Hermione Granger – Or the Messy Hair, Don't Care!
Probably everyone's favorite witch, Hermione Granger sported messy hair throughout most of the movies. She was the smartest witch of her generation, so she probably knew better, so why not copy her look?
3. The Witchy Bellatrix Lestrange – Curly to the Maximum
Also a messy-haired witch and fan favorite, but for the opposite reasons. Curly-haired gals will find it extremely easy to do.
Also, we recommend copying only Bellatrix's look, not her attitude too. Nobody wants to end up in Azkaban, after all.
4. Rule them All – Khaleesi Hair
We are so not going to go into how the mammoth and extremely famous Game of Thrones ended. Instead, we will still admire the extraordinary hairstyles in the show, and recommend these braided Khaleesi looks.
5. Young Arya Stark
Arya Stark is a source of inspiration for so many things, that her hairstyles mostly take a backseat. Still, this is a great look to copy for Halloween and an easy and significant one too! It's a good pick for medium-length hair.
6. Ruler in the North – Sansa Stark Braids
The oldest Stark sister had quite the journey as well, and an ending more than fitting for her struggles. Still, we're not going there, so we'll just point out the many amazing half up braided hairstyles of one Sansa Stark.
7. The Princess Leia Side Buns
The queen of our hearts, we're now talking about the more than iconic Princess Leia. Feel more than free to copy her first look, the side buns, no one will say a thing against it.
8. May the Force Be With You – Rey Hair
No spoilers here, just inspiration. Rey's three buns look became emblematic long before we found out more about her and her story. May the Hair Force be with you for this one though, you will need some patience.
9. The Wonder Woman Infinity Braid
We're not telling you to replicate all of Wonder Woman's look from when she was still in Themyscira, but her braid is just to pretty not to include on this list.
10. Wakanda Forever – Black Panther-Inspired Braids
In a movie with so many great characters, we've decided to concentrate on Shuri, the Princess of Wakanda and an undoubted genius.
We're not going to start praising her (too much time needed) just point out that you can totally use her braids as hair-inspiration. Remember to be as cool and rock them with as much attitude as her.
11. The Black Widow Halloween Hairstyles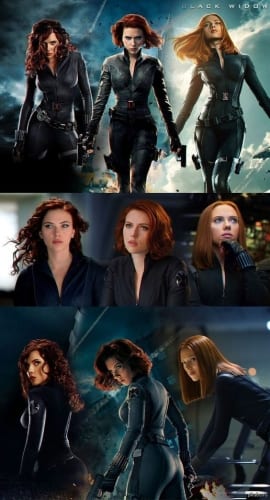 This picture is major Halloween hairstyles inspiration as you get to choose any or all of these great Black Widow hairstyles.
No matter which you choose, you will surely look like this badass that melted my heart and who deserved the world.
12. The Scarlet Witch Hair
Another redhaired badass of the MCU, take a que from Scarlet Witch or Wanda Maximoff and let your wavy copper hair flow down your shoulders or bring some of it to the front too.
13. The Dr. Quinn Look (You Know, Before She Became that Harley)
Before she became the Harley Quinn you will see below, Dr. Harley Quinn used to sport her blonde hair in a wavy, swept-back manner. Try out for a change if you're not interested in her most famous look.
14. The Harley Quinn Halloween Hairstyles
You've seen it everywhere, you'll probably continue seeing it, so why not hop on the trend and have some fun with it too? Try out a Harley Quinn, post-Joker inspired look for Halloween – you might be the only one this year.
15. Gatsby-Inspired Finger Waves
Wondering about the green light? It's not hard to see why Gatsby fell for Daisy, especially when you see her sporting this gorgeous ultra-short and sleek bob with splendid headpiece. Though only copy her look.
16. The Holly Golightly Updo
You might not have breakfast at Tiffany's the following day, but that's no reason not to take some inspiration from Holly Golightly's iconic look. None of the details are optional. Ok, maybe just the breakfast.
17. Margot Tenenbaum's Ultra Sleek & Straight Bob
The queen of secrecy and straight bobs, you can easily copy Margot Tenenbaum's haircut, especially if you are going for an artsy feel. Don't forget about the barrette, and make it red!
II. Disney & Childhood Inspired
18. Tinkerbell's High & Full Bun
No list of Halloween hairstyles would be complete without some Disney inspiration. Just check out how stunning this lovely lady looks in her Tinkerbell costume. It is party and cosplay award-worthy!
19. Rapunzel, Let Down Your Hair
We would have gone with a picture from the animations, but this is the perfect example of Rapunzel hair: long, straight, and blonde. Depending on your preferred Rapunzel version, you can add in some braids too!
20. The Cruella De Vil – Or Any Other Two Tone
You don't have to go full-on Glenn Close for your Cruella de Vil costume (though she does look stunning).
Just take some inspiration from her two tone hair. Most any two tone hair combos can make for some great Halloween hairstyles.
21. The Wednesday Addams Double Pigtails
For one of the easiest Halloween hairstyles and costumes, for that matter, just go the Addams way. Channel your inner Wednesday with a twin pair of long pigtails. Smiling is optional and not recommended for this one.
22. Minnie Mouse Buns
Cuteness alert! These Minnie Mouse buns will look adorable no matter what you choose to wear, especially as they are your actual hair and not a headband. Still, we'd suggest going for the classy polka dot black dress.
23. Be an Ice Queen – Channel Elsa from Frozen
Queen Elsa from Frozen was the ultimate French braid inspiration, even if she is a cartoon, so channel your inner ice queen and go for an Elsa look.
24. Alice in Wonderland Hairstyles for Halloween
You can easily go bonkers with this one and take inspiration from Alice herself or the other characters in the movie – think the White Queen or even the Queen of Hearts or the Mad Hatter (a feminine version).
III. Historic & Historical Figures & Periods
25. The Queen Victoria Royal Bun
A royal source of inspiration, literally. Take a look at the many hairstyles worn by Jenna Coleman in her portrayal of Queen Victoria in the TV Series Victoria and choose the one you like most.
This low and classy bun works perfectly and is made icon by the low strung strands of hair that frame the face and are then caught in the bun.
26. Marie Antoinette (But Keep Your Head)
So you're going to a theme party, a more specifically classy one and don't know what to go for?
Then eat cake and go for a Marie Antoinette look as inspired by the Kirsten Dunst movie! However, don't lose your head and go for this high and curly pompadour instead of a wig,
27. The Jackie O.
Keep it classy and go for some Jackie O. inspired Halloween hairstyles. This can be the perfect look for a more elegant Halloween party, for example, one at the office.
28. Rosie the Riveter
We can do it! We can have fun on Halloween night, pay respect to an important historical period, and achieve all this in a simple and fast way! Gather your hair, roll those curls, pick the headband and you're done!
29. Channel the 80s with This Nostalgic Look
Go for a nostalgic Halloween look and channel some 80s disco style.
It will look especially cool this year with this year's 80s revival (Stranger Things, anyone). Add a scrunchie to keep in touch with the theme and gather your hair if it gets too hot.
30. The Marilyn Monroe
You knew it, we just couldn't not include at least one Marilyn Monroe look on this list of Halloween hairstyles for you. You can go for the iconic white dress, or the pink one, or this relaxed bathrobe (but with clothes version).
31. Vintage Glam – Halloween Flapper Hairstyles
Keeping on with the vintage theme, check out this beautiful flapper hairstyle, this time around fit for longer-haired ladies. Add a shimmering barrette and a little black dress and you are ready!
32. Rockabilly Glam
Go for some rockabilly glam with this vintage, 50s to 60s inspired hairdo. The doll is optional, the T-shirt is very cool, and the tattoos are just so cool, but do accessorize yours as you like most.
IV. Mythological, Loose, Or Just Downright Wow Ideas
33. Be a Romantic Heroine – Wavy Hair in Loose Braid with Flower Crown
Admit it: you've read or are reading romantic novels of the medieval or 18th-century persuasion. You have, haven't you? Then why not go for a flowing long hair caught in a very low tail and with flower crown look?
34. Be an Elf Princess – Inner Arwen Anyone?
Still in the literary inspiration zone, but this time around with a more fantastical theme. Go for the expected elven look with this stunning hairstyle. From the long red locks to the intricate braids, we love everything about it.
35. The Norse Warrior Queen
The latest series of hit TV shows have really opened up everyone's curiosity about German and Viking mythology. With our Norse sense all tingling, we recommend going for this warrior queen look.
36. The Greek Goddess Halloween Hairstyles
Keep it mythological and make for a mythical night with this curly updo inspired by the goddesses of Ancient Greek and their golden laurels.
37. Medusa Hair
Alexandra Kirkley or @Alexandrasrqhair as she is on Instagram simply slayed it with this gorgeous golden Medusa hair. We're stunned and no need for snakes of just how good this messy short curly hairdo looks.
38. Be a Mermaid!
Mermaid hair was a beautiful hair trend all on its own some seasons past, so take advantage of it and go for this mythically-inspired looks for your Halloween hairstyles too.
39. Unicorns Exist!
Jenna Dewan rocked this look back in 2016, but it still is one of the most creative and out there Halloween hairstyles we've seen, so of course we've added it to the list. Proof that unicorns exist and that they are just as amazing as you expect them to be.
40. Halloween Skeleton Hairstyles – Braid it to Look Like One
The incredible Jordan Pomeroy of @Jbraidsandbows created this absolutely stunning look for Halloween a few years back. We were left speechless, so just admire it and take in all the details and the intricacy.
41. A Pumpkin Bun
Sport an actual pumpkin bun this Halloween. Well, almost. The picture above is the very creative take on a bun from @Magic.maker.
They took your usual high, Tinkerbell-bun and went for a pumpkin orange. What makes it even more authentic are the small yet creative and effective details such as the leaves and dark green vines.
42. The Lioness Halloween Hairstyles
The gorgeous beauty blogger @Joyhah went all out on Halloween and effectively transformed herself into a lioness. She used her long naturally curly afro hair and paired it with cat ears and on-point makeup for some stunning results.
43. The Galaxy Girl I – Space Buns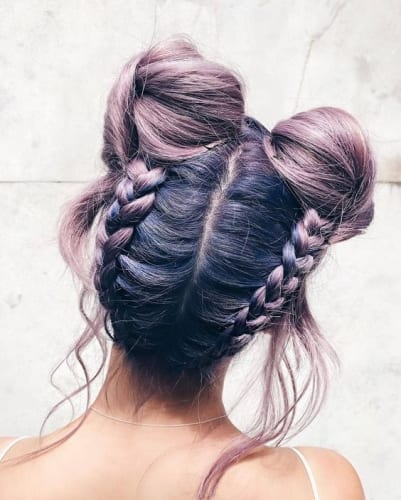 Pick an out of this world hairstyle this Halloween, go for space buns! Make your even more amazing by working on an ombre or balayage base, and braiding your tresses before creating the buns.
44. The Galaxy Girl II – Colored Halloween Hairstyles
I'd suggest gathering up your space hair colors in the space buns above, but these shades of red, pink, magenta, and purple combine in such a stunning way, that it would be a pity to hide them.
45. Make a Bow, We Take a Bow
We bow down to the mastery of Sarah Angius (@Sarahangius) the hair vlogger that created this amazing hair bow made of actual hair.
The thing that sets it in a league of its own and apart from other updos? The height and dimensions of it. She also posted a short clip on Instagram of how she created it.
V. Witches, Fairies, & More Classic But Ultra-Cool Ideas
46. Witchy Hair – Invoke Night Half Up Half Down
Go for a color combination that invokes the darkest hours of the night or midnight.
Then, after you've achieved this beautiful brunette with purple highlights, go for a half up, half down crown braid to really make your tresses stand out in all their glory!
47. Edgy Witch – High Bun with Undercut and Shaved Designs
Want a really special haircut that you can nonetheless whisk away when the time comes to return your day-to-day business? Then go for an edgy undercut with shaved designs, like in the above.
48. Witchy Mania with Hat
The perfect look for a modern witch! Drop the long black dress (for now, at least) and instead go for some autumn-inspired shades. Never forget your pointy hat, though, what's a witch without one?
49. Be an Elf, with a Pixie – Cute Halloween Hairstyles for Short Hair
Yes, you can sport Halloween hairstyles and dress up even if you have a short pixie cut. Just look how beautiful the gal above looks, and how much she channels and elven princess even with such short hair!
49. Be a Devil for Halloween Hairstyles
Be a little devil this Halloween, one with amazing hair! You can either go for the expected and still cool devil look, or take it up a notch and also color your hair in a color combo of your choosing (not red and black, perhaps).
50. Halloween School Girl Hairstyles
You can always still go for the school girl look on Halloween. But, you also choose which schoolgirl, as there's always the expected Britney look, but you can also channel your inner Harry Potter Hogwarts secret wishes.
51. Halloween Biker Chic Hairstyles
As easy as it gets in term of Halloween hairstyles, or any cuts, for that matter. Leave your hair free and flowing and be your awesome self and you'll be more than ready to party (but leave the bike at home)!
52. The Modern Mary Poppins
For a quick, funny, and easy Halloween look, channel your inner Mary Poppins! This is a modern adaption with low bun, face framing bangs, and stylish bowl hat that easier to get than trying to say Supercalifragilisticexpialidocious.
53. Spooky Halloween Hairstyles – the Bad Fairy Edition
There's nothing spooky about this hairstyle, expect how cool it is. Above, you can see a combination of space hair colors and space buns paired with multiple rows of braids and gems for that extra bit of sparkle!
VI. The Fast & Easy Halloween Hairstyles (you were really looking for)
54. The Halloween Cat Hairstyle – Keeping it Simple
All of the Halloween hairstyles ideas above are great, but how about some actually really easy looks? We'll start off this list of suggestions with a pair of simple yet effective cat ears.
55. Wig It! – Cool Easy Halloween Hairstyles
Want to go all crazy and creative on Halloween without doing one inch of damage to your hair? Then simply go for a wig. Celebrities do it, some are famous for it (Sia, anyone), so why not try?
56. Halloween Hairstyles for Long Hair in Braids
This is areally easy Halloween hairstyle for gals with long hair. Just braid your hair into twin pigtails, leave a few strands flowing, and throw on a black hat.
Consider pairing it with a red lip and smokey or cat eye makeup and you'll get an effortlessly cool and witchy look.
57. Easy Fairy Hairstyles for Halloween
This is such a pretty and easy look. Simply throw your wavy hair in a low messy bun with some strands still flowing free.
Then add a headband with flowers (or other nature-inspired designs) and you'll look like a fairy on Earth. All in a matter of minutes!
58. Reusable Halloween Hairstyles
So this is a sort of Alice in Wonderland look, but one more inspired by the White Rabbit. Why, you ask? Well, just look at the clock bag and all the ensemble!
The whole look is perfectly completed by the wavy ombre hair and of course, the bunny ears. You can achieve it in minutes and wear the pieces again anytime you want. Perhaps not the bunny ears, though.
59. Cool Hairstyles for Halloween for Boho Gals
Want to rock Halloween hairstyles without giving up your boho style? Then go for this simple yet totally beautiful look. The crown braid is completed by some pretty flowers and on off-the-shoulders white and flowy dress.
60. Halloween Hairstyles for a Gavroche Feel
We'll be ending this Halloween hairstyles list with a look that just screams Gavroche and in the best way.
If you've already got the cool blonde hair and fringe, just put on the cool cloche cap and throw on some makeup and you are ready!
Ready to Change Your Look for an Ultra-Fun Night?
So there you have it, a list of very cool, ultra-fun, and very fast Halloween hairstyles and looks you can sport for this fun night of dress-up!
So what's it gonna be? A goddess, an elf, a pixie? O historical figure, an intricate costume, or just a very simple and easy look?
Wishing you a funny, spooky All Hallow's Eve and do tell us which of these Halloween hairstyles and looks you went for! Or what you ended up as, be it on this list or not.
Also, we recommend this article on how to clean your hair after Halloween! It's especially useful if you went for glitter or other hair embellishments.
Richard is fascinated by everything that has to do with styling techniques and how technology can play an important part in the industry's development. He started out his career as a barber, and later found his passion for both men and women's hairstyles. Richard now works as a writer for fashion magazines, blogs, and is actively taking steps toward launching his own online platform!