We've talked all about hairstyles and cuts for curly-haired and straight-haired women, but what about the tresses that are something of an in-between? That's right ladies, we're talking hairstyles and haircuts for wavy hair now!
There are so very many ways to style and cut your wavy hair (take it from someone who's tried most of them). And it's always a good thing to stop and think about how long you'll want your hair to be – just like with curly hair, wavy tresses will fall differently once dry.
Also, keep in mind to follow and respect your hair's degree of waviness. As it is a mix of straight and curly, wavy hair can be characterized as being those loose waves naturally formed by the hair. But it can also be those really loose curls that become more defined towards the tips of your lock.
As is, without any former ado, check out these styles and haircuts for wavy hair for all lengths and types of waviness. All, below!
I. Short Wavy Hair
1. Short Haircuts for Wavy Hair
We'll start off with one of the easiest ways to style your hair there is. Simply cut your hair short in asymmetrical layers that are longer in the front and shorter in the back (think inverted pixie) and then let nature style it for you.
2. Pixie Hairstyles for Short Wavy Hair
What can look more adorable than a pixie, you ask? Simple! A wavy pixie, of course! The picture above is the perfect example of just how lovely your hair can look in a pixie cut, even if you don't have very tight waves.
3. Cute Short Haircuts for Wavy Hair
This can easily be classified as an overgrown pixie on its way to becoming a bob. Far from being the "awkward, in-between growth stage", you can let your naturally loose wavy hairstyle it for you.
You can, later on, add some texture to it by cutting some layers as you wait for your hair to grow long enough for its next haircut.
4. Short Hairstyles for Thick Wavy Hair and Brown Tips
Ladies with thick hair will know how much of a blessing and a curse their hair texture can be. To get rid of those painful moments of unknotting your hair, you can cut your hair in a pixie and leave those curls in the back run free and style themselves.
You can also add some lovely brown shades to the tips and rock the messy look, all thanks to nature.
5. Short Wavy Hair with Bangs and Pink Ombre
So you've already got a long wavy pixie (perfection!) but want to add a bit of that extra something to your hair? Then why not go for a short ombre?
You can go rock star with an unconventional color, like the pink above, or a more muted, earthy color. It's all up to you!
6. Short Retro Waves
There was a time when short hair was all the rage, especially if it was wavy or curled, or perhaps razor straight. We're talking about the Roaring 20s, of course!
Take some inspiration from one of the most liberating decades in recent history and style your hair in some lovely loose retro waves. Pair it with a smokey eyes/ nude lips mix for the day or a cat eye/red lip combo for the evening.
7. Short Layered Wavy Hair – The Audrey Tautou Way
A list of haircuts for wavy hair just wouldn't be complete without an appearance from Audrey Tautou. The lovely French actress is a style staple and a major source of inspiration in all things short and layered hair.
II. Medium and Shoulder-Length Wavy Hair
8. Messy Short to Medium Wavy Hair
Your wavy hair is now longer, but you are still unsure how to wear it. Then go for a messy chin-length stacked bob, cool clothes, and the right attitude, and you'll get an ultra-cool but still relaxed look.
9. Medium and Shoulder Length Haircuts for Wavy Hair with Balayage
One of the best ways to accentuate your waves is by going for a balayage!
Take some inspiration from the picture above and go for a mix of honey and caramel highlights. This works for both medium and shoulder-length haircuts for wavy hair.
10. Medium Wavy Hair in Bun and Headscarf
Messy buns are a joy all by themselves, but you can also spruce them up with some well-chosen accessories. For a day out and about, gather your waves in a low messy bun and add a headscarf of your choice!
Make it as colorful as you like or keep it simple to make it fit for the evening too. No matter which, be sure it matches your attire and personal taste!
11. Long Bob Haircuts for Medium Wavy Hair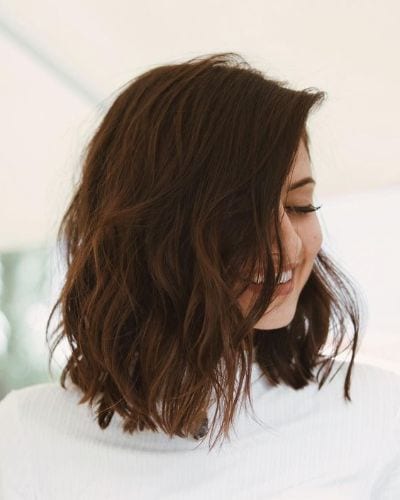 We've talked long pixies, now it's time to discuss long bobs! The bob is well on its way to becoming (if it's already) a timeless haircut, and that's partly thanks to its versatility.
Short, stacked, asymmetrical, or straight, it's up to you to choose one! Here, I'm drawing attention to just how good a wavy long bob looks. You don't even need highlights or other embellishments for it.
12. Low Messy Ponytail in Medium Length Wavy Hair
One extremely useful thing about medium and shoulder-length hair is that you can now once again easily gather up (or down) your hair. Have a long day ahead of you?
Then go for a low, neck-high messy ponytail (or bun). For an extra touch of feminine and messy, leave a few strands free to beautifully frame your face.
13. Shoulder Length Wavy Hair
Alternatively, for a laissez-faire look, just leave your shoulder-length hair fall-free! Leave it on your back or bring half to the front to also show off your new beautiful highlights and lowlights.
14. Shoulder Length Wavy Hair with Bangs
The fact that you're sporting messy haircuts for wavy hair doesn't mean you can't also sport bangs. Far from it, actually! You've already seen how cute and feminine you can look with face-framing bangs.
You can also go for side-swept messy or straight bangs, or a messy fringe, like in the picture above. Leave your locks messy or straighten them up to create a more defined line between the bangs and the rest of your hair.
III. Long Wavy Hair
15. Long Haircuts for Wavy Hair with Double Buns
We're now entering long haircuts for wavy hair discussion. You've got really long hair and want to flaunt it but still wear it up too? Easy!
Go for a half-up, half-down hairstyle. For inspiration, follow the example above and create two spaces on the sides of your hair while leaving the rest to flow wavy and free!
16. Long Wavy Hair in High Ponytail
Another really gorgeous way to wear your really long wavy hair is in a high ponytail.
Just gather your tresses at your desired height and you are good to go! Also, you can either leave your locks flowing down your back or bring all your ponytail (or part of it) to the front and over your shoulder.
17. Shaggy Long Layered Wavy Hair with Bangs
Shag haircuts are back in style! The 90s revival brought the shag back to life, and there are so many ways you can style yours.
For example, you can also pair shaggy haircuts for messy pairs with a pair of well-styled bangs. Either go for side-swept or straight bangs, the choice is all yours!
18. Wavy Long Hair in Ponytail
The photo above goes once again shows the versatility of ponytails. Besides the fact that you can gather up your hair at various heights, you can also easily accessorize them.
For example, you can add a hair accessory such as this bow that's fit for more formal moments. Choose more or less intricate accessories depending on the occasion.
19. Haircuts for Long Wavy Hair with Accessories
We can't get enough of the many superb ways you can style your long wavy hair. Just look at this simple and elegant yet stylish ponytail and at how that simple black and thin ribbon makes it stand out even more!
20. Long Wavy Hair with Bangs and Top Knot
Want to try half-up, half-down styles and haircuts for wavy hair, but the space buns we've shown you above are a bit much for you? No problem! Just go for a simpler haircut and style your hair in a top knot.
For that extra touch, leave some wispy strand of hair flowing down the front for some barely-there bangs.
IV. All Things Wavy Hair
21. Natural Wavy Hair
We've discussed the different ways to style your wavy hair based on its length. Now, we'll just focus on the beauty of wavy hair, no more distinctions are needed.
To kick things off, bring your tresses to the front and let all their natural waviness shine through!
22. Cool Hairstyles for Wavy Hair
Ladies with longer wavy hair can also opt to braid their locks. Keep things simple or go for more complex looks depending on the occasion and your braiding skill levels.
For example, you can try out your hand at making this braided updo style that has two simple 3-strand braids meet at the back to create an almost flower-like bun.
23. Half Up Pretty Hairstyles for Wavy Hair
Another lovable way to sport a half up, half down is by braiding part of it. This reverse crown braid is a perfect example of how you can do this, and the whole look has a boho feel to it. That blonde hair is to die for, too!
24. Wavy Hair with Bangs
As I've said and I'll insist, you can totally rock haircuts for wavy hair with bangs. The picture example shows us a lovably messy way to do just this. The swept bangs also bring out this lovely lady's gorgeous hair shade.
25. Black Wavy Hair
For most, afro-textured hair instantly brings to mind images of curls or braids, but that isn't always the case. You can also have just wavy hair, and the lady above is proudly showing off hers!
26. Curly Wavy Hair
As pointed out at the beginning of this article, there are as many types of wavy hair as there are of curly locks. For example, you can have curly wavy hair.
This basically means that your strands sport more defined and tighter waves that resemble curls. This texture is more prone to frizziness too.
27. Haircuts for Thick Wavy Hair
Another way to style your thick wavy hair is by going for a chin-length straight bob. Make yours stand up by going for some highlights as well, either blonde, as above, or in a color more up your alley.
28. Straight Wavy Hair
Another good example of the great diversity of wavy hair. We've had curly wavy hair, now we have straight waves. The difference between them is obvious: whereas for the first, the waves were tight and resembled curls, for straight wavy hair, the strands will fall in a looser, straighter manner.
Usually, in such cases, the hair starts getting wavier as it reaches the end of your tresses. This time of wavy hair can and does work great with a balayage, as this will help accentuate that nice play of straight to wavy.
29. Half Up Half Down Hairstyle with Hait Bow
You've seen how pretty a ponytail looks if you add something as simple as a ribbon or bow, but what about making this out of your locks, to begin with?
This more out-of-the-ordinary half up, half down sees the hair being brought together to form a stunning and perfectly made hair bow out of the locks themselves.
30. Layered Wavy Hair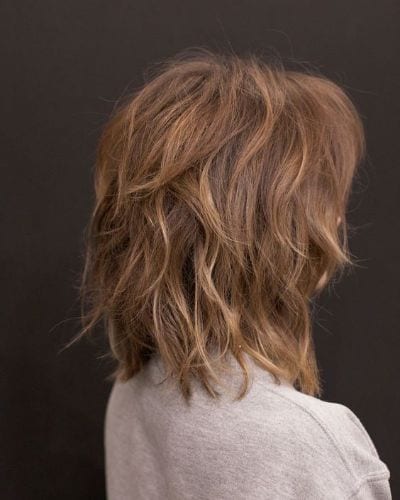 Layering should be a girl's best friend! Just look how good this medium-length wavy haircut looks, all thanks to the layers added by a good stylist.
We love the color too and would especially recommend layers to ladies with thinner and finer hair as it can help add texture and volume to their tresses.
31. French Wavy Bob Hair
The second source of French inspiration. This French bob offers a lot of volume thanks, in part, to its layered cut and also to the natural waviness of the hair. Sweep your bangs opposite their national direction for extra height.
32. Wavy Hair Perm
So you want curly or wavy hair, but Mother Nature didn't bless you with it? Not a problem anymore, as you can always opt for a perm and get your desired levels of hair wavy and curly.
33. Pixie Cut for Wavy Hair
This lovely lady is here with yet another example of how you can stylishly rock a pixie cut if you have wavy hair. The big hoops are optional but so recommended, especially for an added bit of sass and pizzaz.
34. Wavy Hair Weave
Weaves are a very practical way of getting the hair you've always wanted without harming your actual locks.
You can use them to add length, depth, or dimension, and the beauty above is used for a stunning brunette wavy look.
35. Wavy Hair Sewn In
Sew-ins are another type of weave that sees the hair being actually sewn in the wearer's actual natural hair after it was braided into cornrows. After that, get creative and style yours however you'd like.
36. Blonde Wavy Hair
If this doesn't suggest beach waves, we don't know what will. Everything about this look just screams summer love and leisure time. From the loose, wavy hair, to the beautiful shade of blonde, we love everything!
37. Frizzy Wavy Hair
For many, its natural frizziness is one of the disadvantages of wavy hair. For others, it's just another thing that plays to their advantage, so embrace the frizziness and make it seem like a team of professionals created it!
38. Long Bob Wavy Hair
Is there anything you can't do with a bob, in particular, a long one? We don't think so. Bobs are one of the best haircuts for wavy hair you could go for, and combining them with a good dye job will only help add personality!
39. Wavy Hair Overnight
Want to get more defined wavy hair overnight without too much effort? Then wash your hair in the evening and let it rest or blow-dry it until it is almost completely dry.
With it still a bit damp, braid your tresses, secure them with hair ties, and go about your night. Then, in the morning, unravel the braids and revel in the results! (You can comb your locks to arrange them or leave them wild.)
40. Boho-Inspired Hairstyle
Mother Nature, is that you? This lovely lady is absolute hair goals. We love everything here, from the stunning (and probably natural) shade of copper red to the beautifully braided updo and wildflower accessories.
You can wear this superb boho-inspired look anytime, but it would look particularly beautiful for your big day.
41. Fine Wavy Hair
We've talked about thick hair, but what about thin wavy hair, is it a thing? Well of course it is! As already mentioned, layers are your friends, but you can also just leave your thin hair flow loose.
Style it up by going for medium haircuts for wavy hair and adding in some highlights and lowlights to create flow and accents.
42. Haircuts for Naturally Wavy Hair
Depending on your type of wavy hair, the haircut you go for will either accentuate or take away some of its waviness.
For a looser, more straight type of wave, consider going for shoulder-length hair instead of really long tresses. Chances are that the shorter you go, the tighter your waves will be.
43. Wet & Wavy Hair
The wet look was one of the biggest trends several seasons ago and is still a cool way to style your hair. Most wet looks go for straight hair but you can adapt it to play with your wavy hair too.
44. Asian Wavy Hair
Again, most people instantly think of perfectly straight tresses when you say Asian hair. But you can have wavy Asian hair too, either naturally or with some help from layers or styling products.
45. Bob Haircuts for Wavy Hair with Bangs
Bangs and bobs, name a more iconic combination! Make the most of your short wavy hair with this lovely combo of chin-length bob with side-swept long bangs on blonde ombre hair.
46. Thin Wavy Hair
Another way to wear your thin hair, especially if it is longer, is to go for a stylish ponytail. In the example above, you can see how stylish this looks, especially if you make it at neck level.
Cover up the hair tie with a strand of hair, to mask it up and give your hair a fuller look, and leave some face-framing strands and you're done!
47. Wavy Hair Girl with Side-Parted Tresses
Another stunning example of the beauty of red hair. Beautiful color aside, just look how easy it is to add shape and style your long wavy hair.
Simply sweep it over your shoulder while leaving the rest on your back and you already look like a million bucks!
48. Cute Hairstyles for Wavy Hair with Bow
We're still seeing red and in the best way possible. This style perfectly accentuates both the beautiful hair color and its texture.
Gather the strands at the top in a loose tail while leaving the rest hanging long and loose. Complete the look with a wide ribbon and hug a fluff ball, and that's it!
49. Vintage Haircuts for Wavy Hair
Retro glam alert! Check out this beautiful vintage look, this time around, for medium-length hair. Pair those loose, bombshell blonde locks with a straight-ish full fringe and some red lips, and there's nothing more to say.
50. Crown Braid on Wavy Hair
We'll wrap things up with a stunning wrap. Get a summer feel look by going for a low back crown braid with loose wavy hair. Add some wildflowers and you are ready for that festival or a fun day out in nature.
Ready to Change Your Look?
So there you have it, a list of prettiest ways to cut and style your locks if you have wavy tresses. These haircuts for wavy hair will fit short to long-haired ladies and are perfect for all levels of hair waviness.
You can get as creative as you want and should treasure your waves. Yes, even in those days when you'd just wish they'd make up their mind and be either straight or curly already (totally speaking from experience).
To all you wavy-haired gals, have fun and enjoy your locks, they are a gift! And we are curious: what's your favorite way of wearing your wavy hair? Leave a comment and let's exchange hair stories!
Richard is fascinated by everything that has to do with styling techniques and how technology can play an important part in the industry's development. He started out his career as a barber, and later found his passion for both men and women's hairstyles. Richard now works as a writer for fashion magazines, blogs, and is actively taking steps toward launching his own online platform!